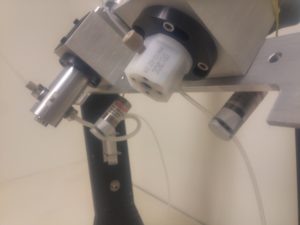 Usually we try to stay away from any type of valve, since our pumps are valveless and act as their own valve.  Recently we ran into a situation where the customer could not purge after the pump was in an idle state for a long period of time (approximately 20-30 minutes).  The material was very expensive and hazardous.  Moving the reservoir helped a little bit, but regardless the fluid was either going to move forward and drip or move backwards and would then force the user to "waste" several shots to prepare the pump to dispense again.
It was suggested we use a pinch valve on the inlet, mounted closely to the pump.  Extensive testing was done and the results were very good.  It is important that the valve opens just before the dispense cycle is triggered and closed as soon as the dispensing cycle has been completed.  It is also important to use silicone tubing so it can seal together quickly when pinched but then snap back to its original form when released.
Cases like this are a great example of Ivek's ability to test and adapt to our customer's needs. We understand that efficiency is crucial and waste can seriously hurt our clients' bottom line. We strive to deliver the best precision liquid metering and dispensing equipment for your needs. Contact us today if you have a unique dispensing need.